9 tools to survive as a freelance TV director
9 tools to survive as a freelance TV director
Becoming a freelance TV director
For more than 10 years I have been working as a TV director for a wonderful tv production company Woestijnvis. Back in the days, over 150 people worked for the company and of course everything was decently organised. We used Microsoft Office for documentation on an in-house server. The edit suites were connected to the recording studio. We had planning tools and up-to-date calendars. The coffee machine was always filled with fresh beans… Basically all a director could ever wish for to be able to focus on the creative part and not being bothered by organisational stuff.
But then I decided to go my own way. I became a freelance director and I worked for almost all production companies and broadcasters in Belgium and the Netherlands. Suddenly I had to provide my own IT solutions. And as I have a chaotic mind like most creative people, the second production I directed already encountered the first consequence of the lack of a decent planning tool: I was double-booked.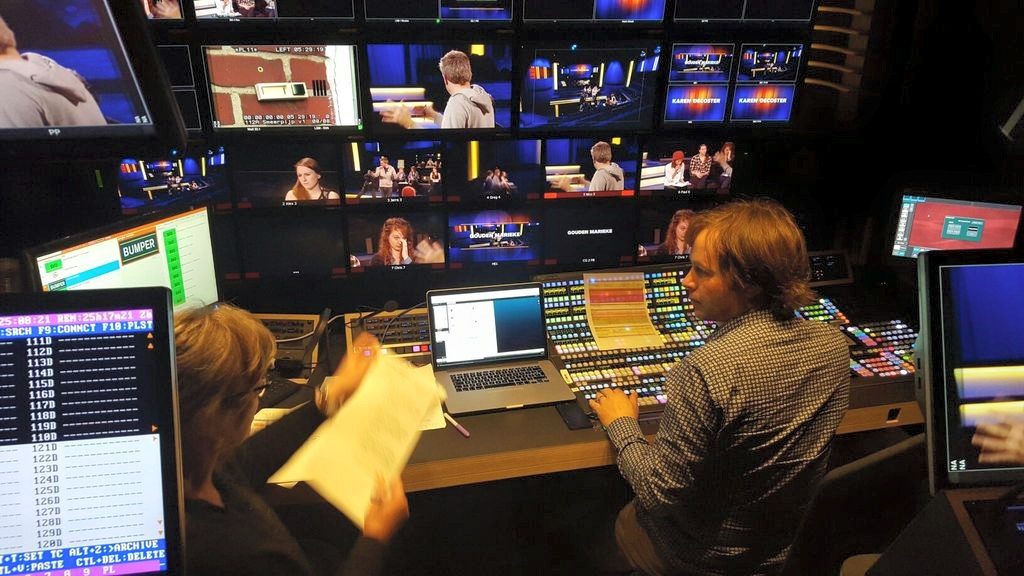 Starting my own company
Around the same time I founded my own company TinkerList, providing a scripting tool for television and radio shows. We hired a team of young international and motivated millennials and along with them came a ton of apps for collaboration, workflow, invoicing and so on. Whatever workflow you can think of, there's always an app for that.
And that was a huge revelation. Because in TV production, we tend to stick to old habits. Probably because we never seem to have the time to change workflows. You must bring out the Don Quichotte in yourself to convince people to let go of old habits and embrace the new.
9 useful apps and tools as an independent TV director
In this article I want to summarise 9 indispensable tools I used as a freelance director, which I believe can be of great value when working independently in the television sector.
---
Questions you probably hear all the time as a director: 'What did you think about the light on the music set?' 'Was the laughter of the audience loud enough?' 'Don't you think the audience should catch more light?' 'Why did it take you so long to record the first round?' 'Don't you think that the wireless head microphones are disturbing?' 'Shouldn't we go for a darker suit for the host?'. And so on.
You know, all these after-event questions you should be able to answer in a thoughtful way. My solution to this? Recording everything I do while directing. I use the Blackmagic Video Assist for this.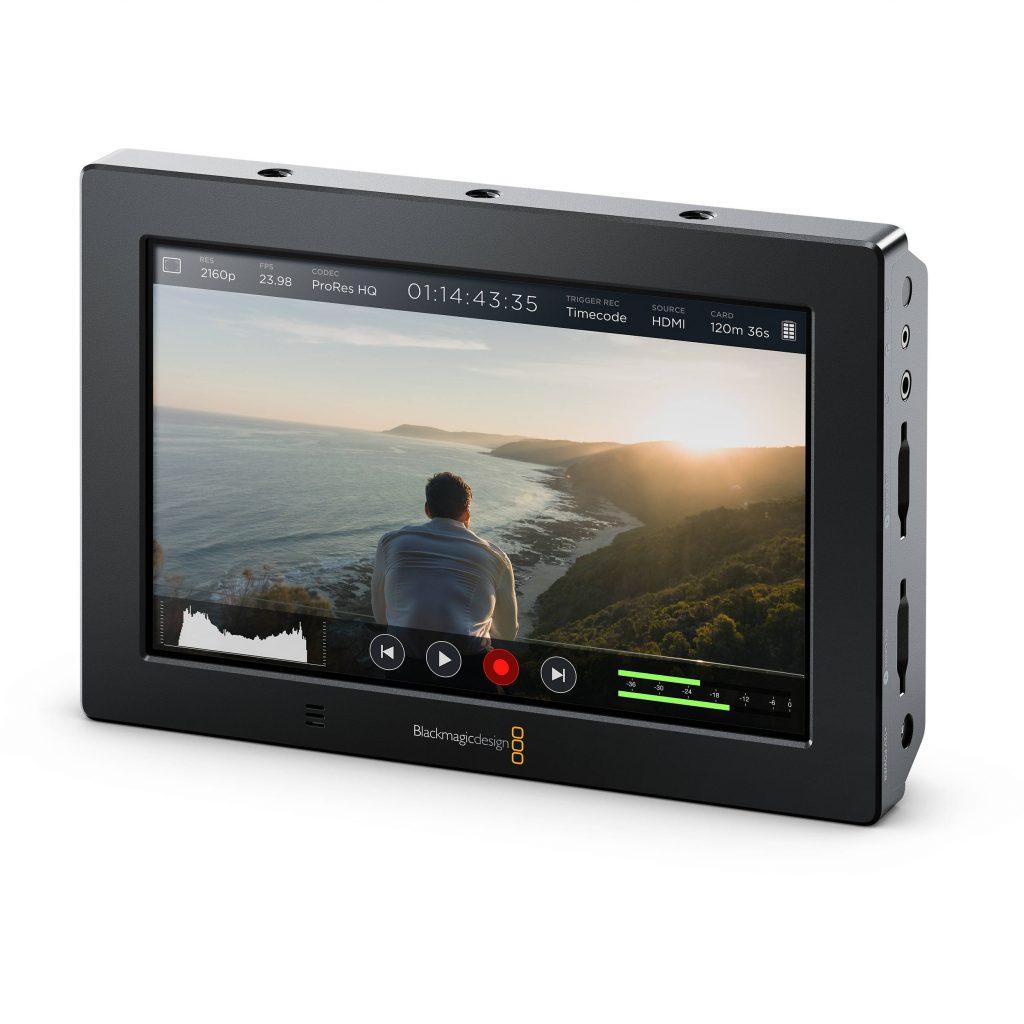 The Black Magic Video Assist is a small screen, that can be battery-operated as well if needed. It records on SD cards and has on screen controls, as well as an audio meter. The video enters via an HDMI- or HDSDI-connector, the ones that are provided in every gallery.
I simply asked the technical guys to connect it on my desk in the gallery and when rehearsals or recordings start, I press a big red button and I am recording in full HD.
After the show, I copy the stream to my laptop and ask me anything you want, I will know what to answer!
Sometimes even my recording was used for editing because the PGM signal was routed wrongly to the EVS.
Cost: starting from 429 euro (tax excl.)
---
I use Wipster to upload copies of the shows I did, as a kind of archive. The cool thing is that I always have all the footage at hand on my mobile. And I am able to share the video to producers or other directors. I hear you thinking: have you heard about YouTube? Yes, but we often use copyrighted audio in our shows, so that is not possible. Now we get to the nicest thing about Wipster: You can comment on the video at a certain time code. And every commenter has his/her own color.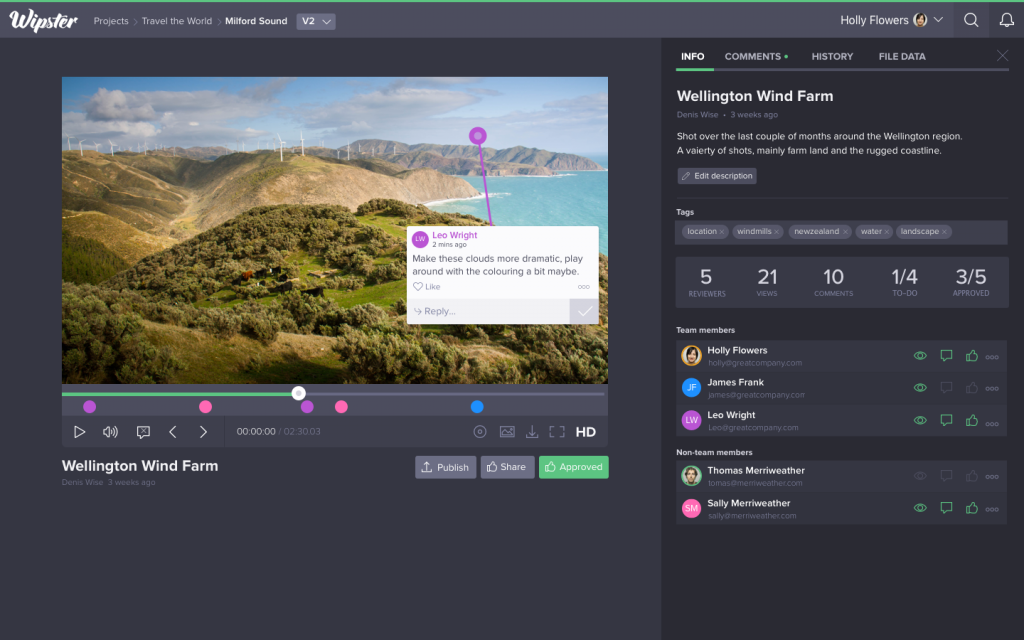 I even oblige the editors to put a copy of edited shows on Wipster and send it to all reviewers. Before they sent files via WeTransfer that I could not see on my phone and I had to put my remarks in an email. Resulting in 4 or 5 reviews that the editor should combine to make his corrections. With Wipster, all remarks end up as markers on his timeline. You immediately can guess the advantage!
Frame.io is also a very nice alternative.
Cost: free (premium memberships available)
---
You go to many meetings, write down a lot of notes during shows, want to make a planning of all things you should not forget about a show.
As a freelancer you can have multiple meetings about different shows on the same day. You come up with the brightest ideas. But after a while you start mixing them up: Was I going to put the crane behind the set in show A, or did we agree to do that in show B?
I started making notes in Evernote from the beginning. Evernote is nice, you can open it quickly, add some photo's, retrieve stuff quickly.
But I needed more: I wanted to be able to share moodboards, make lists of tasks per show and see what I still needed to do, etc.
Then came Notion. That was nice! You can very quickly create nice looking documents. Embed video, tables, photo's. And easily share them. Notion is more than a notepad, it acts more like your personal intranet.
So forget about Word, Excel, Google Drive, Trello, Asana, Sharepoint… In Notion everything comes together in one very user friendly application.
Cost: free (premium memberships available)
---
Although Belgium is a very small country, as a flexible freelancer you often end up sitting in your car for many many kilometres (that's like miles, but shorter) and hours. I think I drove around 50.000 km a year directing shows all over Belgium. Not only bad for the environment, but also for your time and stress-levels. Your day gets filled up quickly too if you have to attend every meeting physically. Schedule two meetings on two different locations and you'll spend more time in a car then doing what you actually like doing: directing TV shows.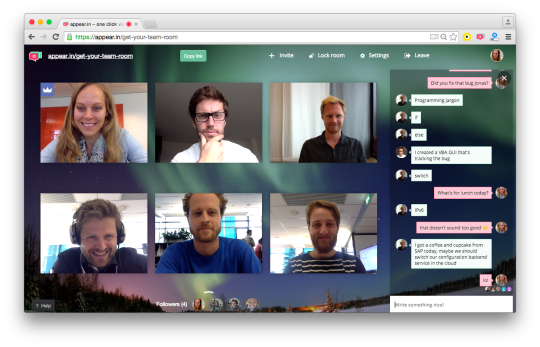 And what about attracting international projects? Fly or sail over there for every pitch or meeting?
This is where appear.in steps in, an online video conferencing tool. It is free if you want to use it with max. 4 people at once. You just pick a room, send the link to your colleagues and off you go. It is really really simple. It opens in the browser, no weird things to install.
Cost: free (up to 4 users in 1 room), upgrades available for private rooms and 4+ callers
---
5. Facebook
Facebook, really? Yes really. I believe it is the only platform that binds all people working in the broadcast industry. It tells you what shows are in the pipeline, because you see show runners and producers moving from one company to another. So you know where to beg for a job.
Furthermore, producers are looking at the things you post. Of course you only post the nice pics so they see that when they hire you, they are hiring a successful director!
There are also a couple of nice groups about broadcasting to keep up about new technology and trends. This one is awesome: https://www.facebook.com/groups/workinginTV/
Cost: free
---
This is very simple tool for Mac, probably you find a good Windows alternative. But it makes my day every time again.
It stores everything you copy. So every time you hit Command-C (copy), it stores the data in a list. And when you press Command-Shift-V (paste with an extra), you'll see that list and can choose what to paste. It even displays photos and images that you've copied;;
It will take you some time not to forget that you have it, but once it's in your fingers, man! The joy!
Some examples: You need to copy some pictures from a website, not all of them, just some of them. You copy each image and then you navigate to the place where you want to paste them, press CMD-SHIFT-V and there is the list of all your copies. Just paste as you like.
Or imagine you want to login to a tool and your credentials on another place. You press copy on your username, copy on your password, navigate to the login screen and paste them one by one.
This saves me so much time, don't hesitate, install asap!
Cost: 16.99 euro
---
I have a thing with mail clients. Most of them are very busy with a lot of buttons and filled screens. Newton makes everything seem so simple. You have to pay a small amount, but it is worth it. It's just so simple and clean and has a nice mobile app.
Nice thing is that you can get read receipts when someone has read his/her mail. And you can delay your mail (not everyone has to know that you have been working until 3am, right?).
The snooze button is my favourite. I snooze all my mails until Saturday. Because during the week I hardly have time to answer.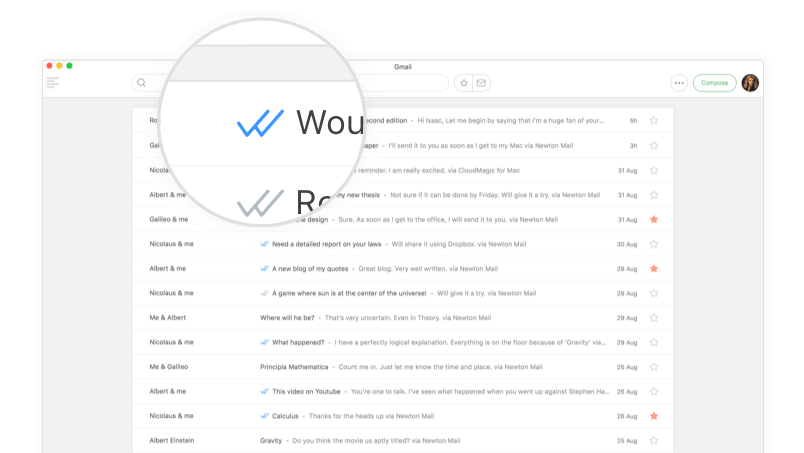 Adding mail clients is also very simple. And once you have done it on your computer, it automatically is as well on your mobile app. What a relief!
Cost: 49.99 euro/year subscription (free trial available)
---
A surprisingly hidden feature of the most popular communication platform nowadays: the desktop app of WhatsApp. Spending a lot of hours staring at a computer screen, it's not always easy to monitor the screen of your phone constantly as well. And you don't want to miss that one golden message where they ask you if you want to be the director of Tomorrowland, right?
The app gives you desktop notifications for new messages and incoming calls. It's connected to your phone, so make sure it's switched on and connected to the internet. Quickly answer a message in between writing scenarios, creating rundowns or editing videos? No problem!
Cost: free
---
9. Doodle
You wouldn't say, but this is probably the most useful one. No, not to plan the next summer BBQ with your friends, Doodle also provides a scheduling service where it connects to your Google Calendar. Every time a producer asked me about my availability, I would just send them the link to my personal Doodle page.
You can claim your personal url that looks something like: https://doodle.com/erikhauters

All your current events appear as 'unavailable' in the Doodle overview. Externals can plan meetings in between the 'unavailables', you will get a notification, you approve and then the producer is notified.
Awesome! Saved me and the whole team a lot of unnecessary and annoying email traffic.
An alternative is https://calendly.com/, but I preferred Doodle.
Cost: free